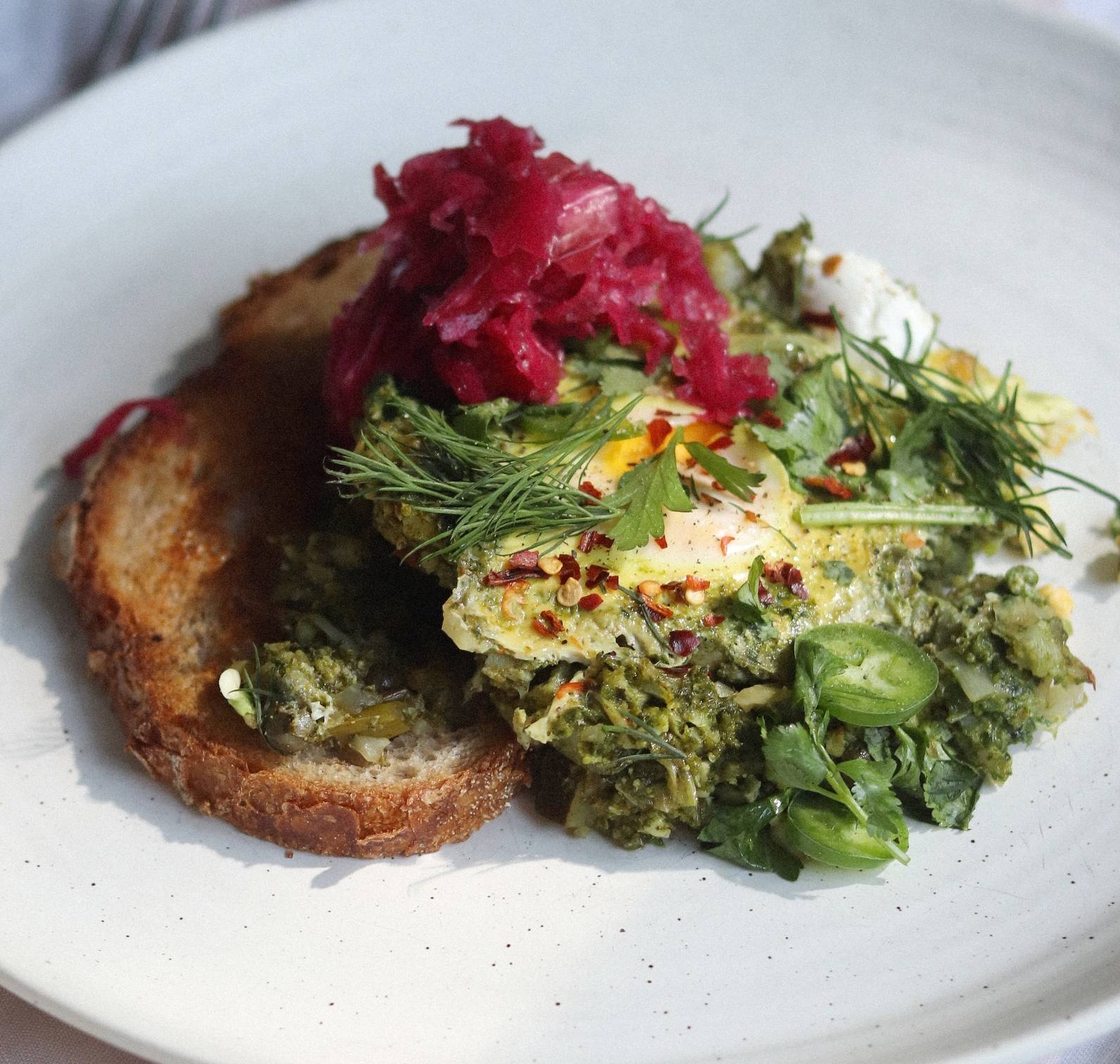 Start your day the right way with this healthy and hearty breakfast recipe from our friend, Maddy Trueman. The perfect easy midweek dinner, or lazy weekend brunch, this green shakshuka is full of leafy greens and protein, and plenty of flavour.
Dietary Notes.
Gluten Free, Dairy Free Option


Notes: An easy midweek dinner or lazy weekend brunch. You can adapt this recipe to use any greens or herbs you have sitting in your fridge. Leave out the goat's cheese or swap it to cashew cheese for a delicious dairy free option. Serve with ferments of your choice for an added probiotic hit.
- 2 tbsp avocado or olive oil 1 leek, washed and sliced 1 tsp cumin, ground
- 1 tsp harissa (optional)
- 1 zucchini, chopped finely
- 1/2 large cauliflower, minced
- 3 cups mixed fresh herbs of your choice (coriander, parsley, dill, basil, chives), plus extra to garnish 2 cups baby spinach
- 2 cloves garlic
- 1 large green chilli or jalapeño, plus extra for garnish
- 1 cup water
- 2 tsp salt
- 6 free range eggs
- 3 tbsp soft goat's cheese
- chilli flakes (optional)
- cracked pepper (optional)
1. Heat avocado oil in a large skillet over medium heat. Add leek and sauté for 5 minutes or until soft. Add cumin and harissa and stir.
2. Add zucchini and cauliflower to the skillet and sauté for a further 5 minutes.
3. Meanwhile, add fresh herbs, baby spinach, garlic, chilli, water and salt to a blender. Blitz until combined. Pour into the skillet and stir. Bring to a simmer.
4. Use a wooden spoon to make 6 small wells in the mixture, crack eggs into each well. Cover with a lid and cook for 7-8 minutes or until eggs are set.
5. Remove from heat and top with goat's cheese, chilli and extra herbs. Sprinkle with chilli flakes and pepper. Serve with toasted sourdough and ferments of your choice.