A question we often ask ourselves is 'what should I eat after a workout?' You know that feeling when you're starving after a sweat sesh, but you want something really delicious and filling? We've got you covered with this wholesome and nourishing breakfast bowl, created by our friend Maddy Trueman. It's filled with vegetables, protein and healthy fats.
INGREDIENTS - Breakfast Bowl
Makes 1
- 1/2 medium sized sweet potato, peeled and cubed
- 1 tsp olive or avocado oil
- 1 large handful of mixed greens
- 1/4 large avocado, sliced
- 1-2 large eggs (pasture-raised are recommended)
- 1 heaped spoon of sauerkraut or kimchi
- 1 small handful of dry roasted almonds, chopped roughly
- sesame seeds, to garnish
- micro herbs, to garnish
INGREDIENTS - Basil Cashew Cream
Makes 1 small jar
- 1 cup raw cashews
- 2/3 cup water
- 1 cup basil leaves
- juice of one lemon
- 1 tbsp olive or avocado oil
- 1/2 tsp dijon mustard
- salt and pepper to taste
1. Preheat oven to 180 degrees fan forced. Add sweet potato, olive oil and a pinch of salt and pepper to a small baking tray. Toss to coat and bake for 35-40 minutes.
2. To make the basil cashew cream add all ingredients to a high speed blender. Blitz until smooth.
3. Bring a small saucepan of water to boil. Boil egg/s for 8 minutes. Peel, cut in half and set aside. 
4. Arrange mixed greens, avocado, boiled egg/s, baked sweet potato, a dollop of basil cashew cream and sauerkraut in a bowl. Sprinkle with almonds, sesame seeds and micro herbs. Enjoy warm or cold.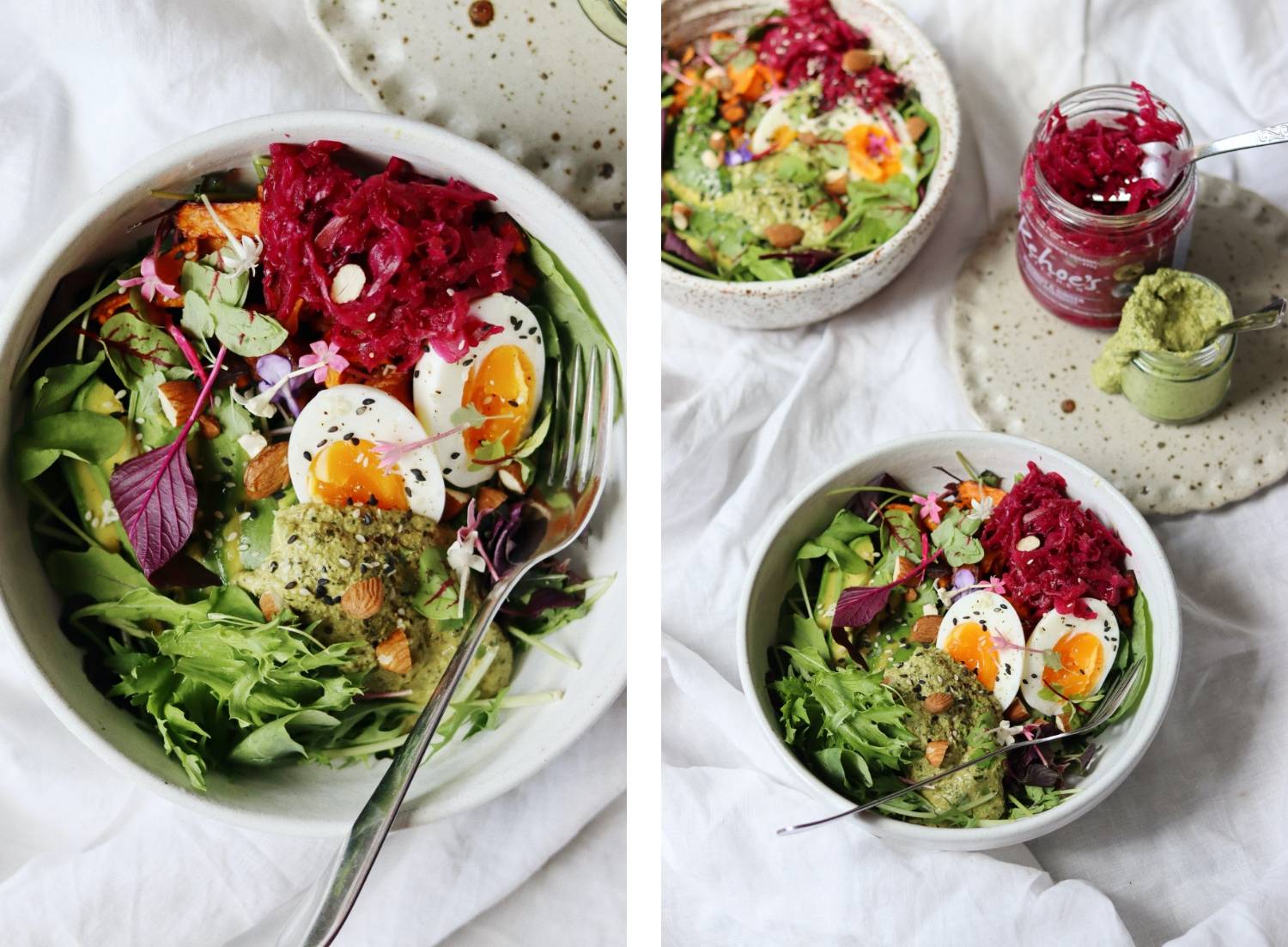 * Basil cashew cream lasts up to 5 days refrigerated in an airtight jar.
* This recipe is great for meal prep. Double or triple the quantity of sweet potato and store in the fridge for up to 4 days. Eggs can be boiled in advance and stored in the fridge for a few days.
* Feel free to swap out the eggs or add an additional protein source e.g/ smoked salmon or nitrate-free bacon.