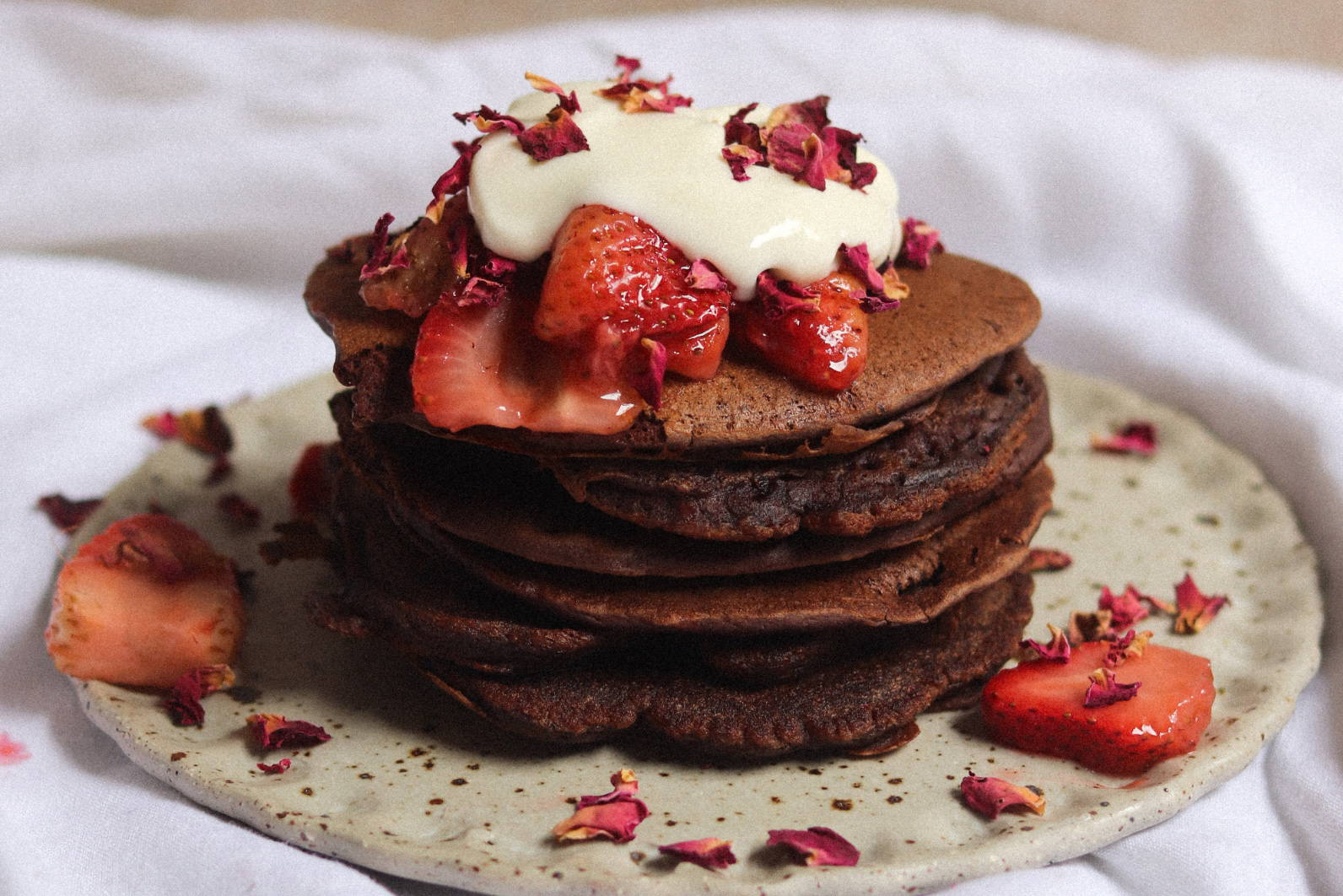 We are drooling over these Buckwheat Cacao Pancakes with stewed rose strawberries by the recipe queen, Maddy Trueman. This gluten-free recipe is perfect for slow Sunday mornings accompanied by your favourite brew. Need we say more?
- 1/2 cup organic buckwheat flour
- 1 tbsp 100% raw cacao powder
- 1/2 cup almond milk

- 1 egg
- 1/4 cup water + extra if you would like them thinner
- 1/2 tsp baking soda
- 1/2 tsp apple cider vinegar
- 2 large pitted medjool dates or 2 tbsp coconut sugar
- pinch of salt
- 1 small punnet of strawberries, leaves and stems removed and cut into slices
- 1 tsp rose water
- 1 tbsp pure maple syrup
- 2 tbsp ghee or coconut oil, for frying
- 1/2 cup organic plain coconut yoghurt - rose petals
- extra maple for topping (optional)
1. Add all pancake batter ingredients to a blender. Blitz until completely combined, ensuring that the dates are completely blended.

2. Add the chopped strawberries, rose water and maple syrup to a small saucepan. Place lid on and simmer for 5 minutes or until soft.
3. Heat a large frypan over medium heat, add ghee and allow to bubble. Pour pancake batter into frypan, either as one large pancake or three small. Allow to bubble, for approx 30 seconds then flip and allow to cook for a further 20 seconds. Remove from heat and repeat with remaining batter.
4. Arrange pancakes to your liking. Top with warm stewed strawberries and coconut yoghurt. Sprinkle rose petals to decorate and drizzle with maple syrup to your liking. Enjoy!