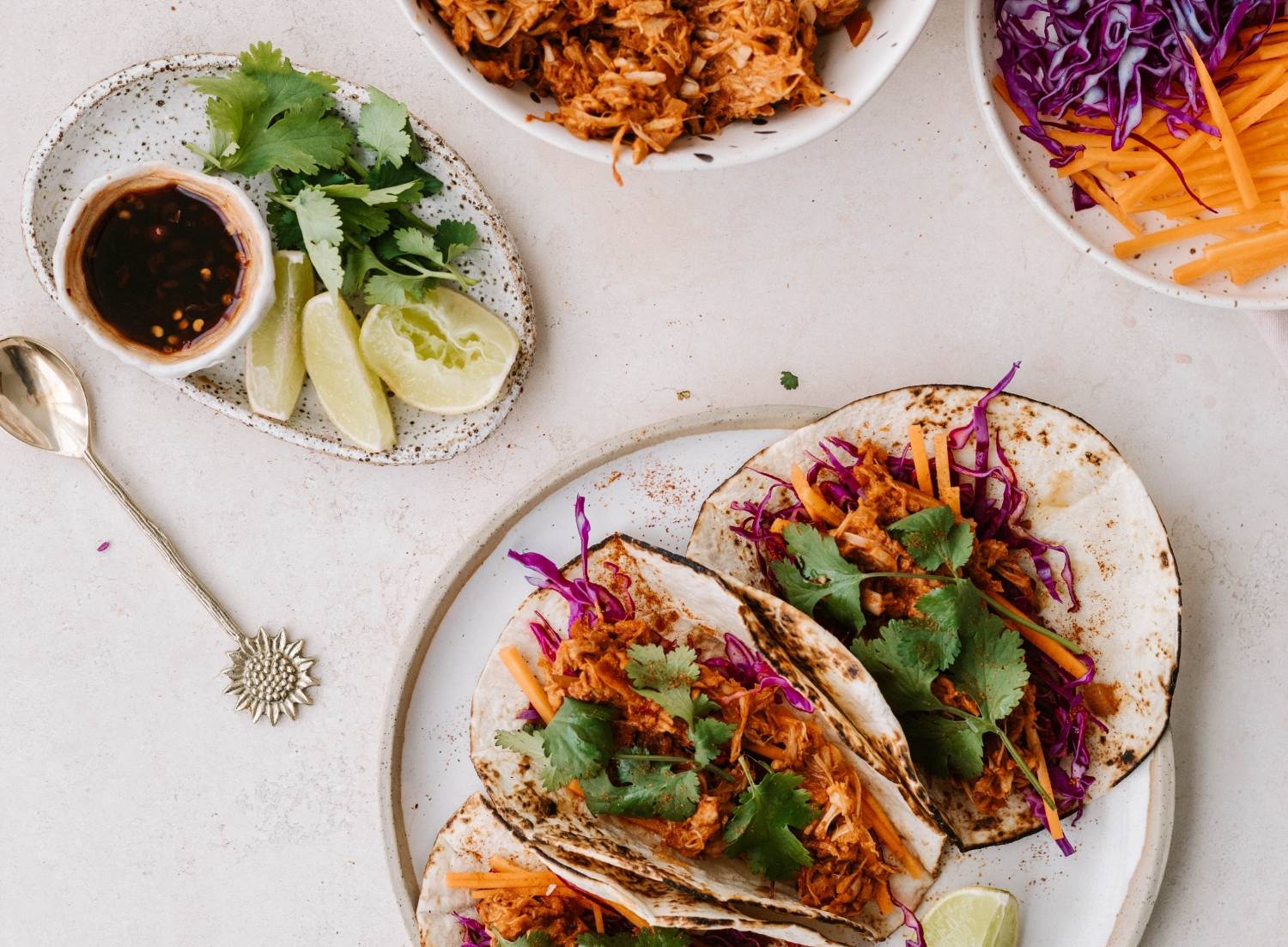 It goes without saying how much we all love tacos but have you ever tried swapping out your animal protein for jackfruit? Ellie Bullen (aka @elsas_wholesomelife) has mastered creating delicious wholesome vegan recipes and this Smoked Jackfruit Taco Recipe is no different.
2 teaspoons avocado oil
400g can young jackfruit, drained and rinsed, roughly chopped
1 teaspoon smoked paprika
1 tablespoon finely diced red onion
2 teaspoons chipotle sauce
2 tablespoons tomato paste
1/4 teaspoon five spice powder
6 small soft flour tortillas
75g (1 cup) finely shredded red cabbage
1 carrot, julienned
Tamari-maple sauce
2 tablespoons tamari or soy sauce
1 tablespoon pure maple syrup
1 teaspoon sriracha chilli sauce
To serve
a handful of coriander leaves
2 tablespoons crispy fried shallots
1 teaspoon chilli powder
lime wedges
1. Heat the oil in a frying pan over medium heat.


2. Add the jackfruit, paprika and red onion and saute for 1 minute.
3. Add the chipotle sauce, tomato paste, five spice powder and 3 tablespoons of water and simmer, stirring occasionally, for 8 minutes or until the jackfruit is soft and cooked through. Break up the jackfruit using the back of a fork so that it appears 'shredded'.

4. Combine all of the tamari-maple sauce ingredients in a small bowl. Set aside.
5. Fry the tortillas in a dry frying pan over high heat for 15 seconds each side, then transfer to serving plates.
6. To assemble the tacos, divide the cabbage, carrot and jackfruit mixture among the tortillas. Top each with a few coriander leaves, crispy fried shallots and a good pinch of chilli powder. Drizzle over the tamari-maple sauce and serve with lime wedges on the side.