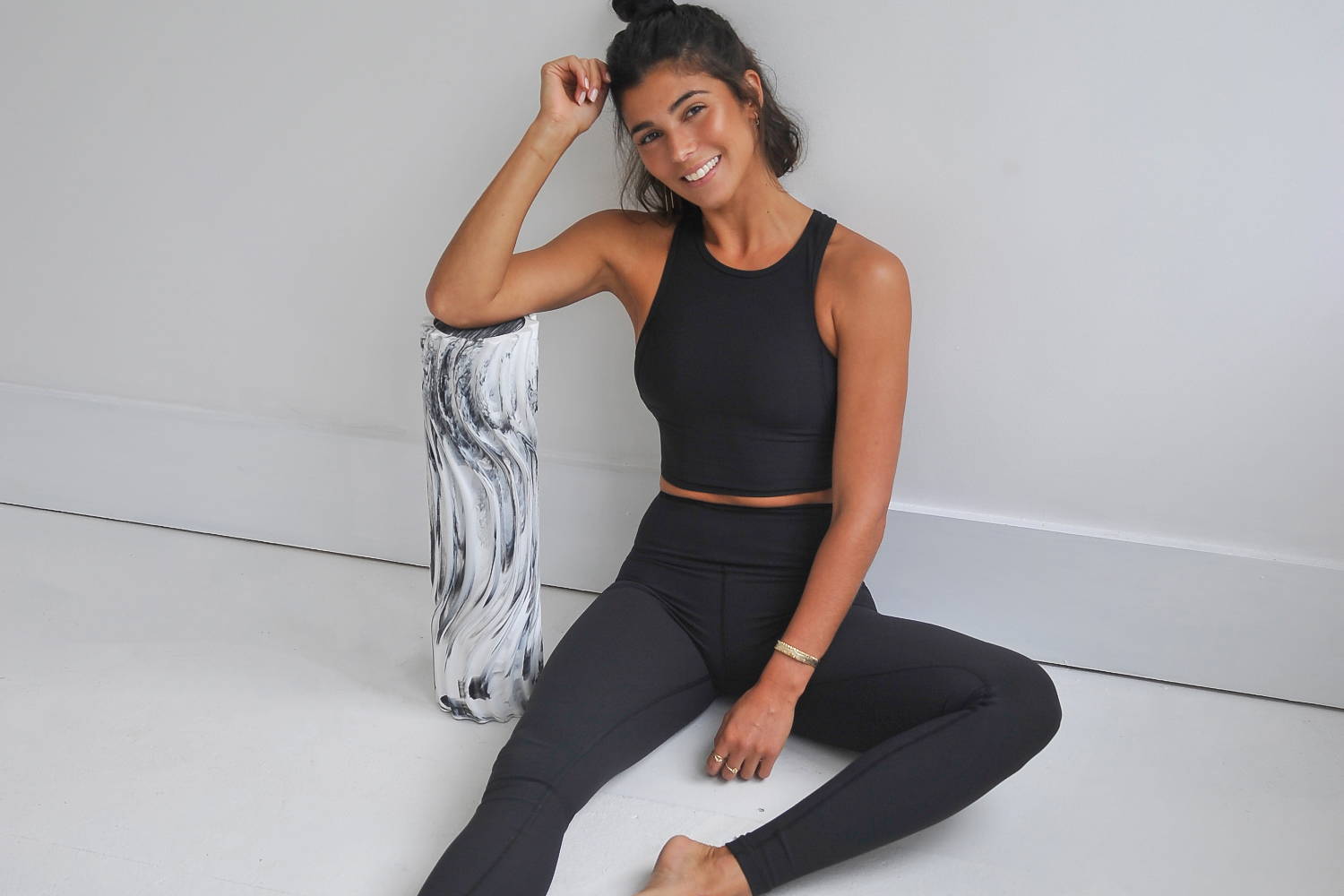 Hey Bianca, thank you so much for chatting with us! We're so inspired by your wellness journey and love your workout videos. You started off in modelling, what made you decide to move into the pilates and wellness space?
Movement has always been a huge part of my life, I danced from the age of 4 all through school and would attend Pilates classes with my mum growing up. I'm addicted to the way it makes you feel afterwards! It's movement that is truly nourishing for your body, mind and soul.
Modelling was only something I had done here & there growing up - but I signed with my amazing agency Precision MGMT and have been able to pursue it more seriously. I have been able to combine both my modelling and movement/health background together working in jobs that are aligned with my core values. I've been very fortunate to work with brands like Nike, Calvin Klein and more recently AJE in the launch of their new athletica range.
I'm also a final year naturopathy student! Combining movement, food and natural healing together just all makes sense!! Holistic healing and living is the base of a balanced lifestyle!
Can you tell us about Balanced by Bianca and the kind of content readers can find on there?
Balanced By Bianca is an online Pilates and Wellness Space where members have access to over 180 classes ranging from Pilates, Barre, Pilates sweat, lengthen, and restore, Pilates flow and breathwork classes. You'll also find delicious & nourishing recipes as well as wellness tips! Members also have access to join 3 live Pilates classes weekly via zoom where they can gain real time feedback as well as the chance to ask any questions. I also send out a free wellness pack upon sign up to my amazing new members.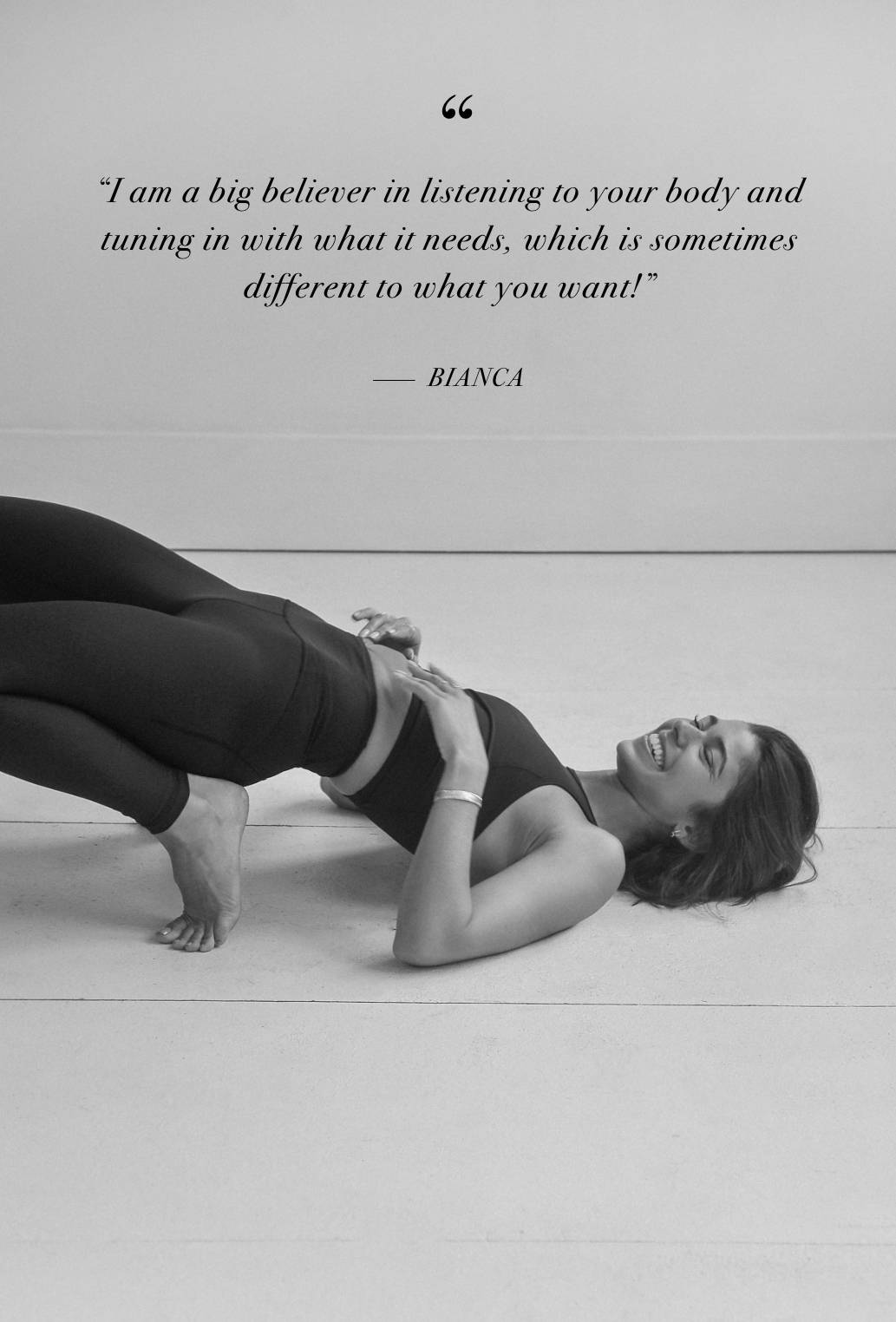 What does your personal weekly workout routine look like and how do you stay motivated?
Every week might be slightly different, I am a big believer in listening to your body and tuning in with what it needs, which is sometimes different to what you want! If I am feeling super tight or sore, I prefer to take a walk or do a gentle yin yoga class. If I am feeling energized, I love completing a higher intensity class like an athletic reformer or a boxing class. I love mixing it up, this not only helps me stay inspired for teaching, but it also teaches me new things about my body and what it can do!
You share such delicious recipes on Instagram! What does a typical day on your plate look like?
At the moment I love starting my day with my coconut chia pudding (you can find this on my website) It's super easy to prep and great to grab on the go. For lunch, I enjoy having my seeded crackers crushed over a large salad with falafels & hummus. For dinner, my favourite would be Asian greens and miso salmon! I always try to make sure I am getting enough healthy fats and protein with each meal!
What's a wellness tip or ritual that you live by?
I've recently completed my Vedic meditation and can honestly say I feel a complete and total difference when I start my day with a 20-minute meditation. It's the first thing I do, and it always sets me up for the day ahead! Meditation, AND drinking water (around 2-3L per day) - it has so many amazing benefits.
1. Go-to coffee order?
Oat Piccolo
2. Morning or afternoon workout?
Morning or Middle of the day!
3. Top three beauty products that you can't live without?
Aesop Breathe Body Oil, La Roche-Posay Vitamin C serum, and Mecca Brow gel! LOVE love a fluffy brushed up brow!
4. What are you reading or watching at the moment?
How to do the work by Dr Nicole LePerla
5. Favourite local cafe/restaurant?
Porch and Parlour