As winter well and truly settles in we are brought to a crossroad of ways to come out the other side unscathed. 
As winter well and truly settles in we are brought to a crossroad of ways to come out the other side unscathed. We either spend the next few weeks sobbing over photos of warmer days spent by the beach with our glowy, sun kissed summer skin... OR we utilise the downtime by taking care of our skin through nourishing from the inside out in preparation for next season. We'll take the latter! We invite you to read up on our guide to glowing skin this winter, using one of our holy grail skincare brands Mukti.
A gentle, creamy cleanser that contains nurturing extracts of Kakadu Plum and Mountain Pepper Leaf to retain the skin's natural moisture balance. Enriched with Shea Butter and Macadamia Nut Oil, this moisturising cleanser conditions the skin to feel supple, purified and hydrated.
Step 2.
Combat the inevitable winter redness by applying the Marigold Hydrating Creme as an overnight face treatment, because let's be real - the only time red looks cute is when it comes in stick form and is applied to the lips. 
A luxuriously rich, deeply moisturising and reparative treatment suitable for all dry skin conditions. Infused with bioactive native extracts of Kakadu Plum, Cornflower and Willowbark to promote elasticity and suppleness with long lasting protection.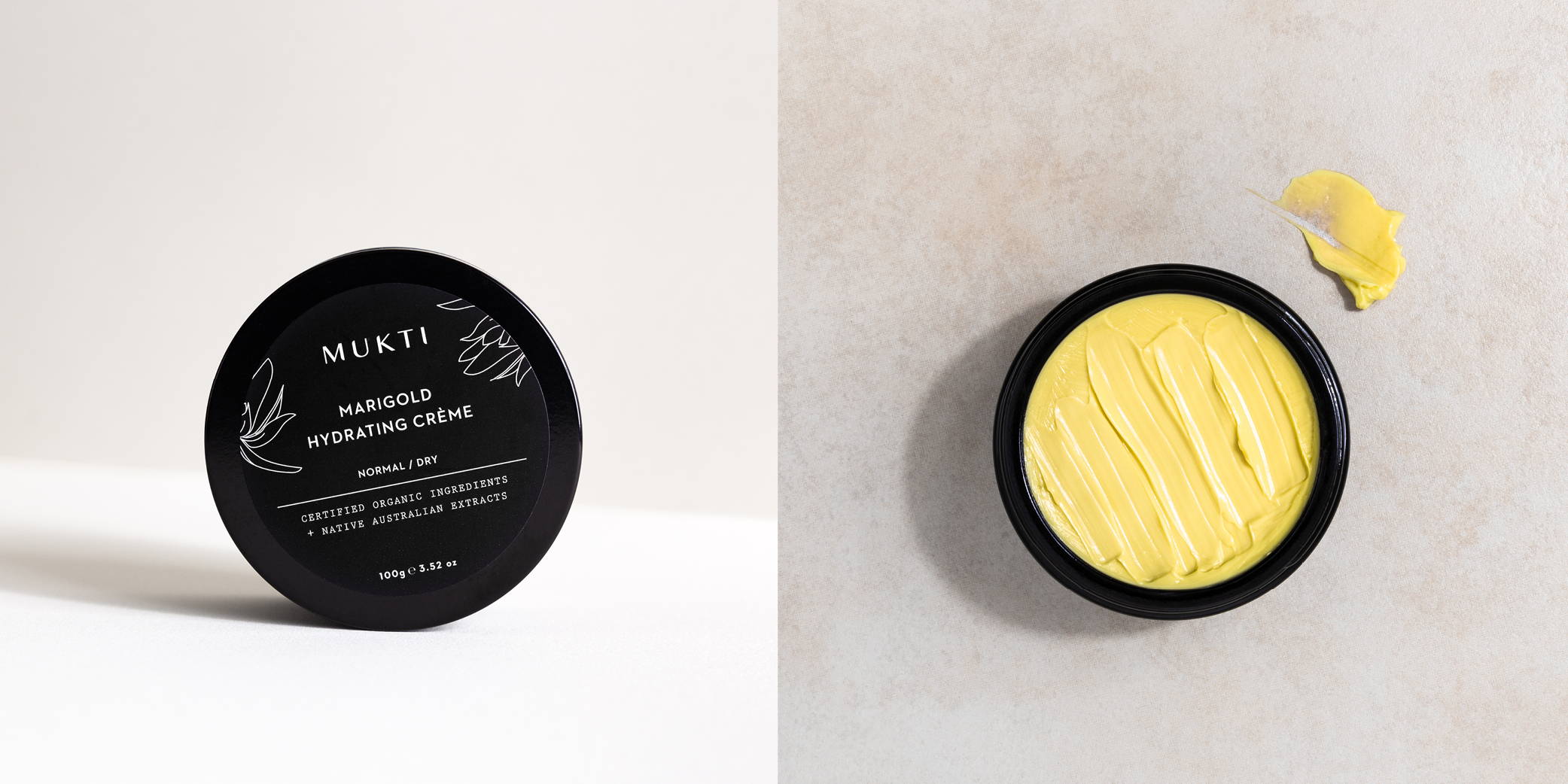 Step 3.
Top off the facial chapter of our winter glow ritual with a generous spritz of the Rose Blossom Hydrating Mist.For toning purposes mainly, but also, if you can't be sipping an Aperol Spritz on a balcony overlooking theAmalfi Coast you may as well recreate a (somewhat) similar sensation (tried and tested). 
Hand picked Bulgarian rose petals are combined with native Australian extracts of Kakadu Plum, Kangaroo Flower and Snowflower to hydrate the skin and offer protection against environmental stressors. Aloe Vera imparts calmness and a dewy complexion. Use throughout the day to freshen and uplift the skin and senses.
Step 4.
Nourishing oils are not only for the face, Mukti's Bioactive Body Elixirwas formulated to hydrate the body by deeplypenetrating beneath the skin's surface - restoring moisture to create the luminous, smooth glow of your dreams.

Hot tip: apply to damp skin after the shower and wear long pj's to bed to seal in the moisture. Let the elixir work itsmagic overnight while you get your beauty sleep! 

Contains hydrating essential fatty acids, phytonutrients and phytoceramides that are gently hand blended and work to enhance and stimulate cell turnover, elasticity and protect against free radicals.
Step 5.
If we could bottle up glowing, supple skin and turn it into an ingestible powder it would be the Bioactive Collagen Booster - also known as our night cap of choice. Hands down one of our all time favourite products, with each sip you will literally feel your insides rejuvenating with boosted collagen and improved digestion. We'll cheers to that! 
Marine Collagen is known for re-hydrating skin, protecting against UV light and restoring beauty, including - more youthful skin, healthier hair and stronger nails. It can also help support the reduction of cellulite, wrin- kles and stretch marks.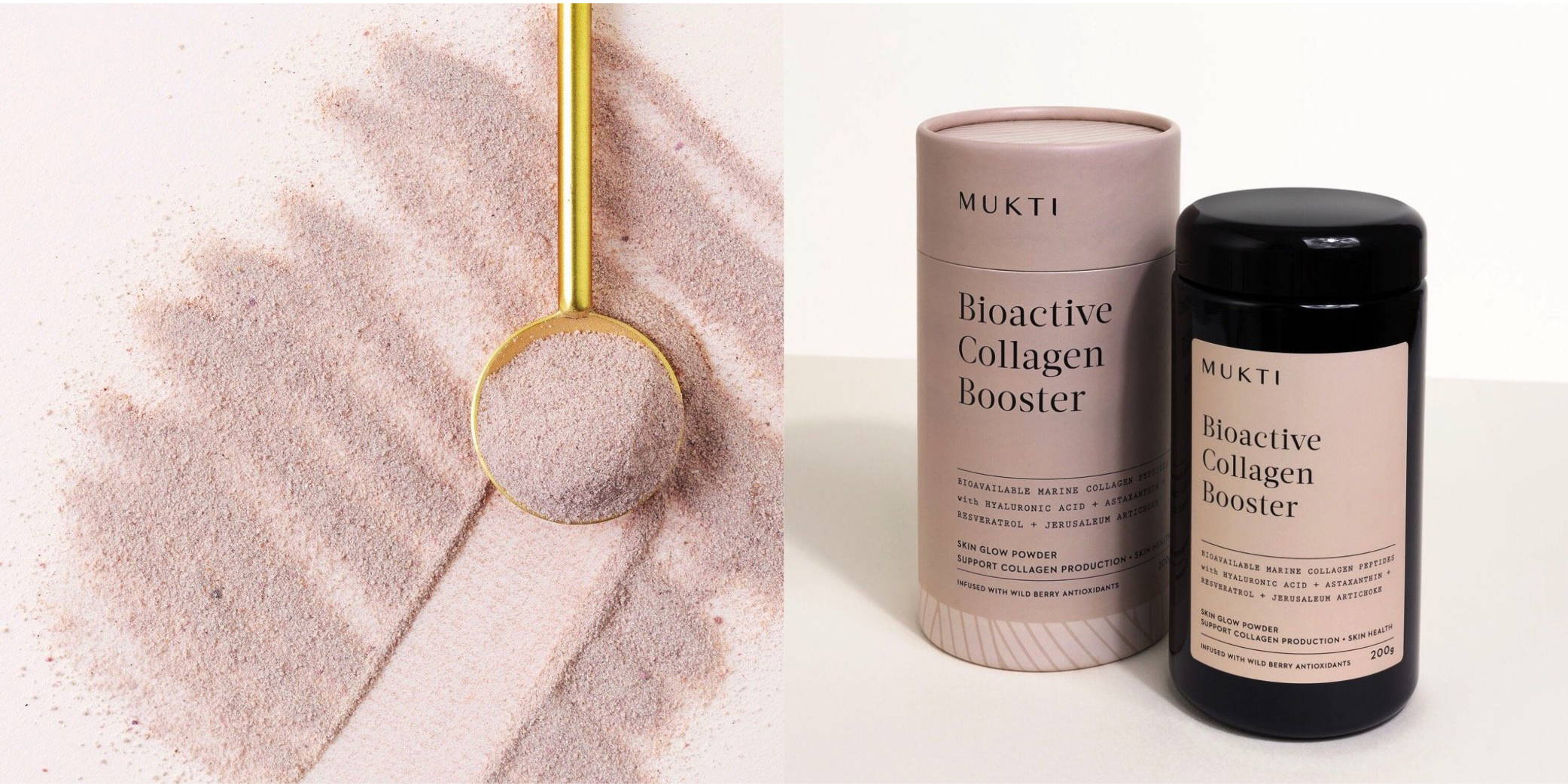 Step 6.
Conclude the nightly glow ritual with a little bed timereading. As a true pioneer of clean beauty, Mukti hasillustrated the ultimate resource for holistic beauty andput it in writing Truth In Beauty Book. Knowledge ispower after all.
Truth In Beauty is a practical, easy-to-follow guide thatwill help you make the switch to clean beauty and ahealthier lifestyle without compromising on results.